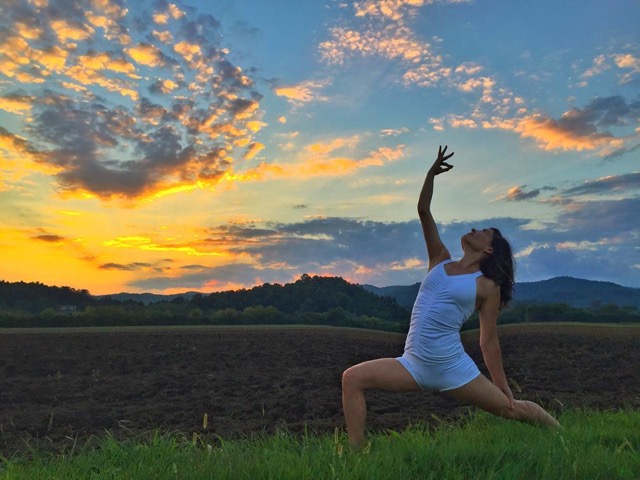 Have you been in nature on a piece of land that tugs at that genuine spot inside you, beckoning you again to live according to your deepest truth? Every barefoot step on the earth, every sunrise, and every drop of dew reminds you to "live your dharma" (sacred purpose).
I've been lucky in my life to travel to remote and beautiful places in the world and I've seen and been inspired by so many settings.
The Gaia Farm was the latest, and it is definitely up there as one of the most physically and spiritually galvanizing places in nature I've been.
Gaia Herbs offers nearly 200 organic herbal supplements and grows a large portion of these plants on the Gaia Farm in Brevard, North Carolina.
It was not too hard to refuse my old friend, Bill Tipper's invitation to the farm for a photo shoot, since I love Gaia's supplements, and I love plants.
As soon as I arrived, I was struck by the orderly and pristine nature of the farm as well as the interesting and diverse crops growing such as ginko trees, gotu kola, Asian pears, echinacea, holy basil, lemon balm, bitter melon, and more…
After three days basking in the farm's great energy, I returned to Boulder, fired up about my life and living. Here are my biggest takeaways (and some of the photos), which I hope inspire you too!
Living with Consciousness
Gaia is conscious, caring, and precise about sustainability, down to every detail.Every tractor on the farm is operated by bio-diesel from restaurants in Brevard and Asheville.
Seedlings on their way from the greenhouse to the fields for planting.
Every tractor on the farm is operated by bio-diesel from the restaurants in Brevard and Asheville.
All of the canisters used for their smoothie boost powders look like plastic, but are actually made out of 100% plant materials. If the bottles ever find their way to the ocean, they will sink to the bottom and dissolve in the salt water.
Gaia fertilizes the soil at the farm with compost made from some of the solution used to extract the herbs in the distillery.
They are committed to growing organically and maintaining a true seed-to-shelf production which includes generating their own seed stock each season rather than buying seeds from outside the farm.
Such a practical place to practice yoga. Don't you do yoga on tractors? Easing into baby natarajasana and trying not to giggle!
Be in Nature – The Ultimate Healer
Because of the photo shoot there were a number of opportunities to get close and personal with nature on the farm. Talk about grounded! If you ever get the chance:
Lay face down in warm, freshly tilled soil at sunset!
Take savasana on some dewy grass at dawn.
Walk barefoot in the grass, mud and soil. You can do a pedicure later, it's worth it!
Dance and skip wildly through the trees at dusk, preferably with a friend.
Sprint barefoot at top speed through newly tilled soil in the morning mist.
Take notice of what CEO and founder, Ric Scalzo calls "meetings and awakenings" such as the adorable bumble bee pictured below who we found camped out under an Echinacea bloom.
This was my favorite bumble bee on the farm! He was sound asleep at dawn cuddled up under the echinacea petals and sparkling with dew. And this is a twin headed flower! I made Bill take a macro shot so I would always remember him. :)
Break Bread with Great Company, Farm to Table Style
There is something so old-fashioned and wonderful about taking the time to prepare, serve, and relish an exquisite meal with friends. Especially when those friends are uplifting, visionary people capable of meaningful conversation who care about the planet!
Sauteed stinging nettles! So good for skin and for allergies.
It's rare these days to invest our time in sitting around the table just simply talking to one another. On one of the evenings we had the chance to do this with the Gaia team and it was such a treat.
Chimichurri made from parsley and gotu kola (good for skin, collagen production, and the brain!).
The meal was crafted and prepared by Ric Scalzo, along with Gaia's staff writer, Stepfanie Romine.
Made up of produce and medicinal herbs grown on the farm, the menu was designed to emphasize the transition between summer and fall.
My new favorite word: Biomimicry
Gaia's team shared that this very cool word which serves as a guide for everything they do at the farm and how they conduct their lives and business.
From the Biomimicry Institute's website (there is an institute!), biomimicry is defined as,
"An approach to innovation that seeks sustainable solutions to human challenges by emulating nature's time-tested patterns and strategies. The goal is to create products, processes, and policies—new ways of living—that are well-adapted to life on earth over the long haul."
Some examples biomimicry:
The Shinkansen Bullet Train in Japan is modeled after a Kingfisher's beak because of the velocity and speed at which they are able to dive-bomb to catch their prey!
Pomelo fruit can hit the ground from heights over 30 feet without getting damaged, thanks to a hierarchically organized peel structure. This inspired the recent development of an aluminum composite material being considered for use in safety applications.
Schooling fish save energy by swimming in vortices created by their neighbors. Researchers are using similar principles to find optimal positions for wind turbines.
Bird Protection Glass - Ornilux's window glass prevents bird collisions by mimicking the UV reflective qualities of spiders' webs.
https://youtu.be/FBUpnG1G4yQ
In Summary: Get into Nature!
Everyone knows that we all get inspired, healed, and rejuvenated by being closer to nature. However we can get caught up in staying indoors so easily, so here is your official reminder!
Make sure you're scheduling plenty of time in the woods, at the beach, in the ocean, the mountains, the snow, and on the grass.
Find ways to increase nature around your home. Do you have a back yard, balcony, or patio that needs some attention and plantings? Could you adopt a potted plant or terrarium? Could you plan for creating veggie garden to grow your own food? Can you commit to regular gardening and if not, hire a gardener to help maintain your garden?
Get outside at least twice a day to breathe the fresh air, feel the sun on your skin, and see the birds and insects.
Do you have a place that inspires you? Tell me about it in the comments below!